Newsletter October 2017
School will start at 9:15 a.m. every Monday throughout the school year!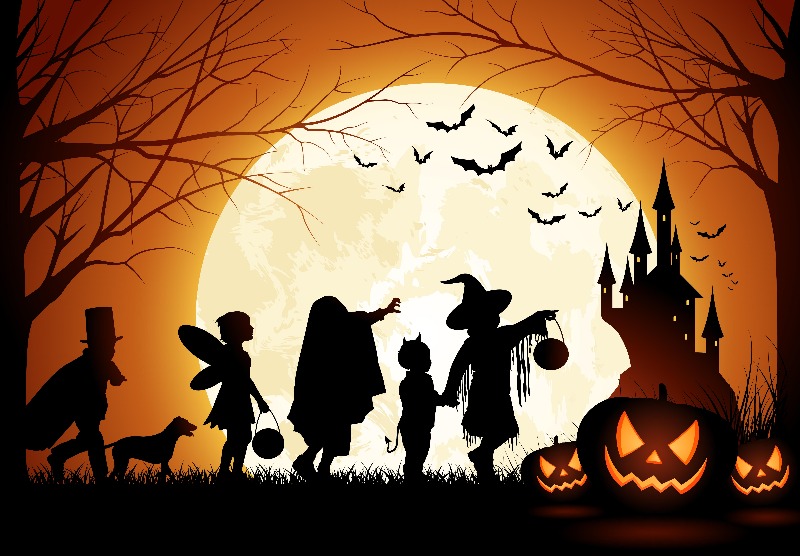 2017-18 School Year is off to a Great Start!
Welcome to Westwood Elementary! We have had a great start to the new year!
It is the people that make Westwood special and I would like to introduce you to our new staff in the elementary. Ms. Shelby Schmidt is our new Transitional Kindergarten teacher. Mrs. Stephanie Scott is teaching first grade and Mrs. Erin Lindsay is teaching second grade. Mrs. Emily Davenport will be teaching special education in grades K-2 and Ms. Karley Seuntjens will be teaching special education in grades 3-4. Our new associates in the elementary are Patricia Bebee, Jessica Niewohner, Michelle Cloud, Ashley Worrell, Michelle Keane and Jennifer Deen.
Please remember that our school handbook and many other resources are available on our district website. There are also links to the school's Facebook and Twitter accounts there as well. Please don't hesitate to call or stop in our office with questions!
Looking forward to another exciting year of learning,
Mr. Lutt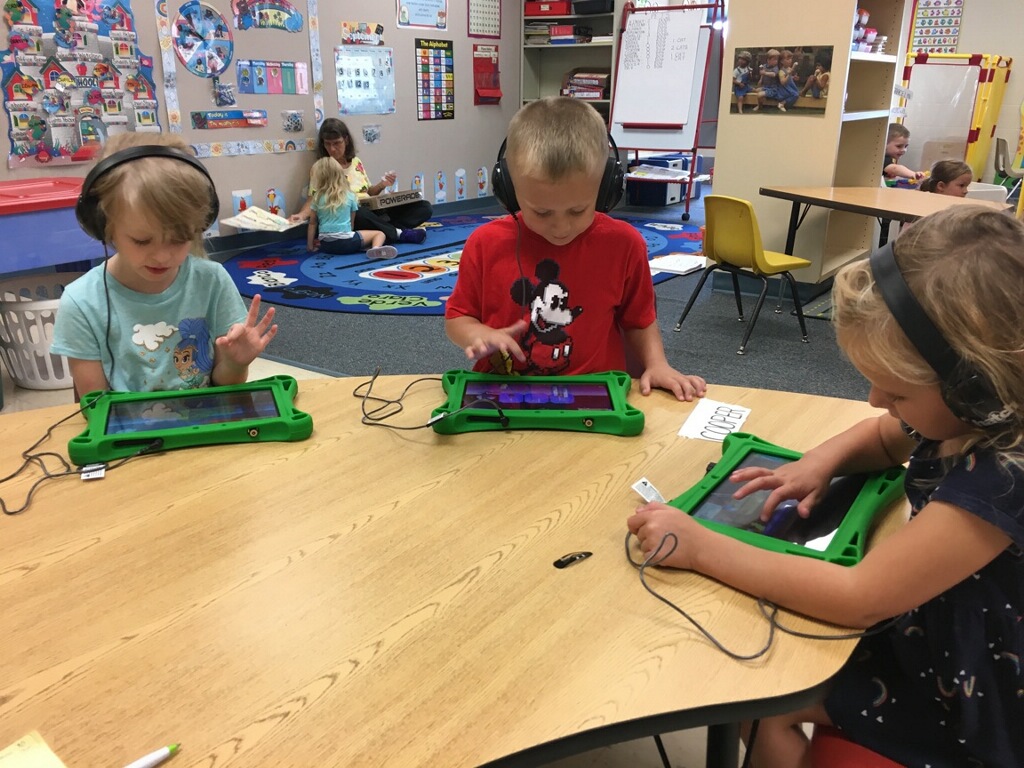 Above our preschoolers in Mrs. Berg's class are testing out our new HATCH tablets. These tablets offer interactive learning games for the students to play. The program constantly "assess" their learning of Gold Curriculum skills and enters it into the district's learning website. Parents will see how their children progress at conferences.
Box Tops, Pop Can Pull Tabs & Hy-Vee Receipts
Westwood will be collecting Box Tops for Education, Hy-Vee receipts and pop can pull tabs this year. Your child will be bringing home a note regarding the Hy-Vee receipts with more information . We no longer collect Campbell Soup labels or milk caps. Thank you for your support!
Weather Notifications:
Our JMC message center uses the phone number identified as your "primary" number to make the email or text message if we are delayed or cancelled due to weather. To check your primary information, use your login or call the office to make sure your contact information is up to date. It's also a good idea to have an alternative plan in place for your child if early outs should happen, please let us know if you have not done so already.
Our policy for going outside at recess is if it's above ten degrees, factoring in wind chill, we will go outside. Please be sure your child is dressed to go outside; warm clothing is a must for them to be on our buses and playground.
Westwood is filled with Yogas. Not Yoga or Yoda but Yoga Chromebooks. These are located in PK-2 classrooms and 1:1 in 3rd-6th grade. They can be used as a typical computer with a keyboard or folded for a tablet. Learning has never been this much fun!
Service Dog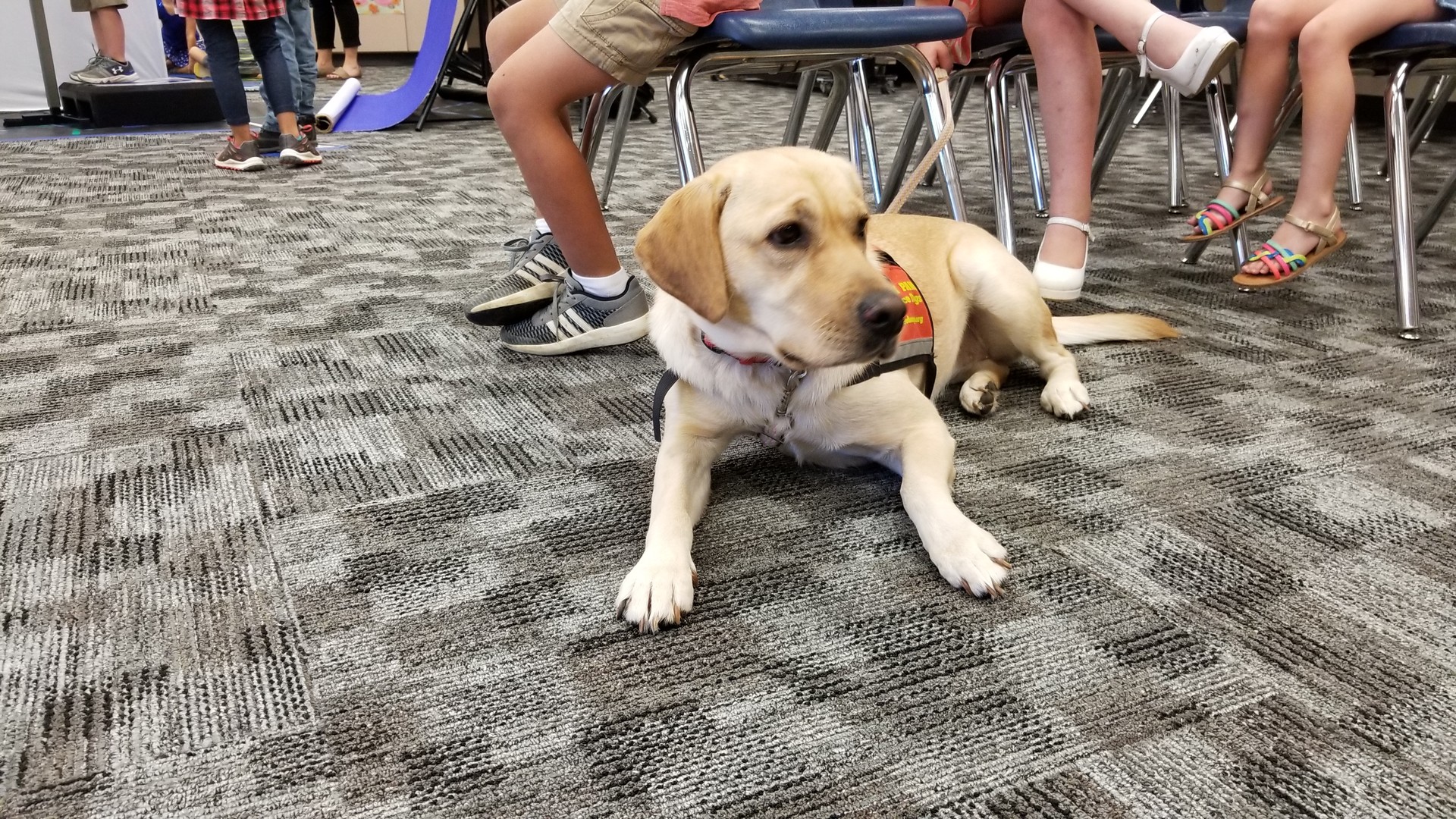 Dazzle is new to Westwood this year. She accompanies a kindergarten student each day for medical reasons. The kids enjoy her and are getting used to having a dog in the classroom. If you see her in the hallways, remember that she is at work and kindly let her do her job.
Elementary Music Concert
The Westwood Elementary students Kindergarten through 6th grade will be having a Fall concert on Tuesday, October 24 at 7:00 pm. Students should plan to arrive by 6:30 pm. Grades K-3 will meet in the multipurpose gym, 4th grade will meet in Mr. Lyon's room, 5th grade will meet in Mrs. Lounsbury's room and 6th grade will meet in Mr. Gerking's room.

Students are preparing songs around an autumn and Halloween theme and are allowed to wear their Halloween costumes that night for the concert. Students should not bring look-alike weapons or wear masks or face paint to the concert. Hats may only be worn if the student is standing on the back row. If your child chooses not to wear a costume, they should wear nice dress clothes; no blue jeans, shorts or tennis shoes. If you have any question about what is acceptable to wear please email tlounsbury@wcsdrebels.com.